At Anderson Orthodontics, we are always happy to welcome new patients of all ages! As a member of the Burleson community, Dr. Anderson is proud to have built a quality, affordable orthodontics practice that serves the town he and his family love!
The New Patient Experience At Anderson Orthodontics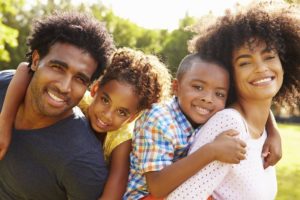 When you come in for your first appointment, you will get a tour of our office and meet Dr. Anderson and the rest of the staff. You will have some new patient forms to fill out, but we've got delicious coffee and hot chocolate at our beverage station to help make the paperwork go by just that much faster.
Here for your child's orthodontic appointment? They can take advantage of our kid-friendly theater-room complete with an iPad station, games, and even a basketball hoop.
You'll notice that the entire team at Anderson Orthodontics strives to provide an outstanding patient experience. If there is anything we can do to help make your or your child's appointment more comfortable, just ask!
What To Expect From Your Orthodontic Evaluation
After your new patient paperwork is complete, our team will take you or your child back for complimentary x-rays, photos, and a thorough examination. Once finished, Dr. Anderson will discuss his proposed treatment plan and answer any questions you may have about your or your child's smile.
At Anderson Orthodontics, we pride ourselves on offering orthodontic treatment solutions that fit a range of preferences and budgets. From traditional Braces to Invisalign® to cost-effective clear aligners made in-house, your orthodontic care will truly be tailored to you.
Setting Up Your No-Interest Payment Plan
One of Anderson Orthodontics' missions is to provide quality care at prices that fit the budgets of all Burleson families.
After you and Dr. Anderson agree to a treatment plan, our financial coordinator will provide you with a fair and honest price assessment. If you are without dental insurance or if your dental insurance does not cover the full price of treatment, we will offer you a 0% interest monthly payment plan designed to fit your budget. No credit check required!
Call Today To Schedule Your FREE New Patient Orthodontic Consultation
Come and see why so many Burleson families trust Anderson Orthodontics with their smiles. Call today to schedule a FREE orthodontic consultation for you or your child!